Sweet Grown Alabama Farmers Market Outside Tomato Sandwich Lunch
June 28, 2023
Sweet Grown Alabama hosted a pop-up farmers market outside the Alabama Department of Agriculture and Industries' 20th Annual Tomato Sandwich Lunch at the Ed Teague Arena in Montgomery on June 28. Attendees enjoyed sandwiches featuring local tomatoes as well as corn and other products produced in Alabama. After lunch, guests were able to attend the farmers market to purchase products from farmers across the state, as well as visit a few informational booths.
"Hosting the farmers market outside of the Tomato Sandwich Lunch is always one of my favorite events," said Sweet Grown Alabama Assistant Director Aisling Fields. "Watching attendees visit with farmers and taste the goodness of local products is a home run in my book."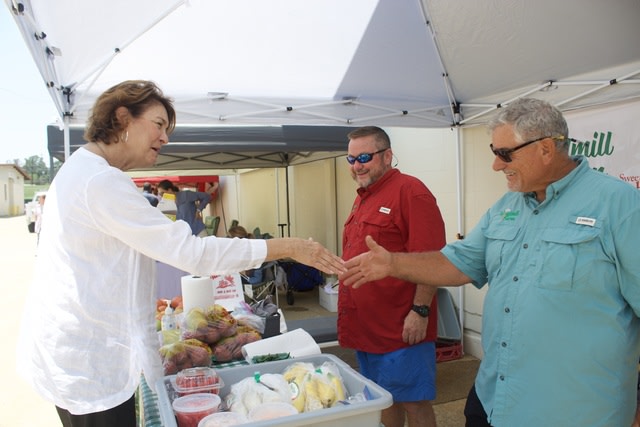 Over 400 people attended the Tomato Sandwich Lunch and Sweet Grown Alabama farmers market. The 10 vendors sold products including peaches, pecans, jams and jellies, honey, corn, peppers and more. Sweet Grown Alabama supporters Alabama Ag Credit and First South Farm Credit were also in attendance with fun take-home goodies.
In partnership with Wallace State Community College and the Alabama Department of Agriculture & Industries, Sweet Grown Alabama also handed out fried green tomato samples.
This is the third year a farmers market was held in conjunction with the Tomato Sandwich Lunch.
"This event is always a fun one," said Prattville Honey Farm owner Allen Mills. "We always meet great people and of course see familiar faces."