Something New on the Farm
Oliver Farms
by Jerri Ann Oliver
April 13, 2023
My husband, Chad, and father-in-law, Larry, are long-time row crop and cattle farmers. I have had the pleasure of helping them farm for many years now.
This past year I decided to do a little of my own farming, something new and something that would allow families to come together and spend time with one another. I brought the idea to my husband and father-in-law that I would like to strawberry farm. I wanted to do a u-pick farm with activities and something fun for families to enjoy. Our son has food allergies, and strawberries are one of the few fruits he can eat, so this would also benefit him. My husband was a little unsure of this, knowing this would be a little different than row crop farming.
All three of us spent several months learning about strawberry farming and visiting other strawberry farms. We knew the equipment and the process would be different. My husband and father-in-law were determined to make this happen for me. They both spent countless hours getting the land ready, hauling in sand, and my talented father-in-law, with the help of my husband, built most all my equipment. I won't lie, the planting process was a little stressful, and then surviving the crazy Alabama weather added to that stress. We worked hard maintaining the plants and patiently waited for spring.
At the beginning of April, we started seeing strawberries, lots and lots of strawberries. We opened for u-pick mid-April. Our first weekend we were picked dry. Each weekend was full of families, and the laughter and fun these families had was all worth the hard work. We also committed to picking berries for people who chose not to u-pick. That also did very well and kept us extremely busy. Everyone jumped on board, my mother-in-law, brother-in-law, and sister-in-law helped fulfill all the orders. We even went out on a limb and offered to the schools. They immediately took us up on the offer, and we had the pleasure of delivering to our five county schools and the elementary at our city school.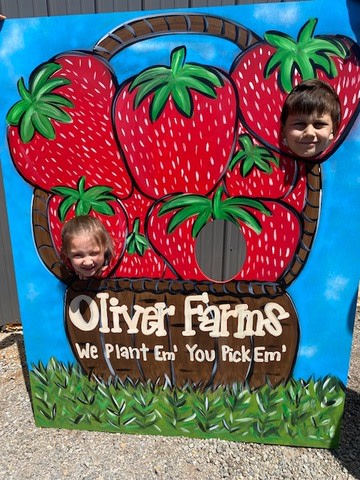 Again, we couldn't have accomplished that without the help of our family and friends. We also had a local pre-K class come out for a field trip and learn all about strawberries. We implemented an honor system at the beginning of the season. With all of us working full time jobs, this allowed our customers to pick and drop money in a drop box. That will continue, along with accepting other forms of payment. Our first season was a complete joy and a huge success. We want to thank Sweet Grown Alabama for allowing us to be a part of a program that helps farmers get noticed. This next year, Oliver Farms hopes to bring more activities and fun. We will continue with u-pick, pre-picked, delivering to our local schools and hopefully add more field trips.