Don't Put All Your Eggs in One Basket
Haynes Farming Co. LLC
by Whitney Haynes
February 2, 2022
"Don't put all your eggs in one basket."
And maybe you should pack more than just eggs.
And maybe you need more than just one basket.
This could briefly summarize our experience in farming. Ben and I married in 2006 and it did not take long for me to realize the ups and downs of farming. After returning from our honeymoon, we came home to what began a two-year drought. That year, we hired a custom harvester to come in and salvage our corn crop for silage (compacting in airtight containers to be stored and used typically as animal feed in winter). And while I was amazed to watch the process, we were also heartbroken to have essentially lost an entire crop. Through the next year, we watched helplessly as the rains we prayed for didn't come, and we entered another year of failed crops.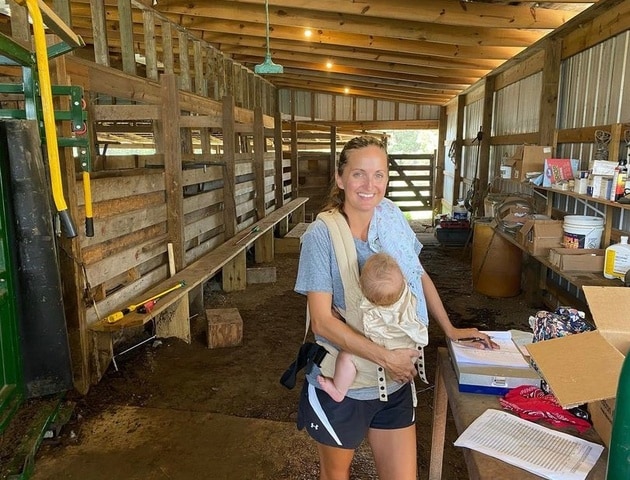 While I am a teacher, Ben farms full time, so we discussed the possibility of picking up another job. While we waited on the rain, we kept a close eye on the cattle and hoped things would eventually turn around. At a Young Farmers Meeting in Montgomery, we met with other farmers struggling with the same issues we were having and while we stood for prayer to ask God's blessing on the food and once again beg for rain, the heavens opened up and the floods came.
I will never forget that day when we all turned our heads to the skies, feeling that things were about to change, a relief flooding over us all. That's just one circumstance, but I could point to many more throughout or marriage when it benefited us that our farm didn't "put all our eggs in one basket". Being a diversified farm has allowed us to more heavily rely on one commodity when the weather or markets were not in our favor.
Ben is a sixth-generation farmer, and together we are raising our children - Jack, Lola Kate, Charlie, Caroline, and Pruett to become the seventh generation to carry on the legacy of farming in the family. The farm has certainly evolved over the generations and has produced everything from vegetables and sweet potatoes to cotton, hay and cattle, even turkeys! Today, we run a cow-calf, backgrounding (intermediate stage of calf weaning) and cattle feeding operation, as well as growing corn, soybeans, and wheat. We've spent several years building our custom beef and pork market and hope this proves to be another successful avenue for our family.
We know that in order for the farm to be successful and to make room for our children as they get older and more involved, we must work now to ensure there are plenty of opportunities for them to be a part of the legacy we hope to leave behind. In the meantime, we will keep adding baskets, eggs, and whatever commodities are necessary to ensure the farm continues to thrive.
That's what we really see as our mission: To be good stewards of those things with which God has entrusted us so that the next generation can have the opportunity to do the same.