Sweet Grown Alabama Launches Statewide Consumer Marketing Campaign
May 4, 2021
Sweet Grown Alabama launched a statewide marketing campaign on May 1 to expose consumers to the Sweet Grown Alabama brand and drive traffic to the program's online searchable database.
Director Ellie Watson said this is the program's first consumer marketing push.
"We are thrilled that our members and the Sweet Grown Alabama brand will make over 20 million impressions to consumers this summer," said Watson. "Our previous efforts have been focused on reaching members, but now we are shifting to tell consumers all about Sweet Grown Alabama and the importance of buying local."
Campaign elements include online advertisements, podcast commercials, social media advertisements, billboards and television commercials.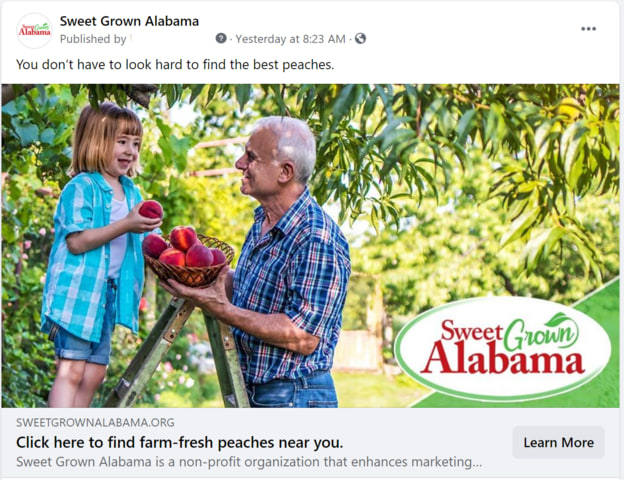 According to Watson, this campaign will bring additional value to Sweet Grown Alabama membership.
"Helping our members sell more locally grown products is the goal of Sweet Grown Alabama," said Watson. "With this summer's marketing initiative, our members can expect to see a rise in database traffic and a subsequent increase in customers looking to support local. If you aren't part of the Sweet Grown Alabama family, now is a perfect time to join."
In addition to statewide marketing and listing in the online searchable database, Sweet Grown Alabama members have the right to use the logo on their locally grown products. To learn more about membership, visit SweetGrownAlabama.org/why-join.
Click here to find local in your area.